International Space Station Model
While the assembled model includes 320 separate parts, an additional 316 parts will be added to produce a high fidelity, accurate, museum quality replica of the International Space Station. A stand is provided with each model. Overall dimensions of the completed model are 30" wide, 22" long and 20" high.
Flying SpaceX F9 Model Rocket


Build and fly your own 1:88 scale model Falcon 9 rocket and Dragon spacecraft into space. The model comes with molded nose and tail, full-color preprinted body tube and full-color sticker for Dragon.

The finished model stands 58 cms (22.8 inches) tall. No painting required. The kit includes molded transparent fins for flight that can be removed for display.
SpaceShipOne with White Knight Desktop Replica Model
In June 2004, Scaled Composites' SpaceShipOne became the first privately-funded crewed vehicle to reach space. Three months later, flying a sub-orbital trajectory twice within a two week period, the spacecraft and its pilots won the $10 million Ansari X Prize. Today, SpaceShipOne hangs in the Milestones of Flight gallery at the National Air and Space Museum in Washington, DC. Its carrier aircraft, White Knight, continues to be used for test flights, including for NASA's X-37 demonstration spaceplane.
This 1/48th scale Apollo Command Module Model comes with a stand and features amazing detailing. Stands 3 1/2 x 9 inches. This model is not a kit and is already constructed.
Virgin Galactic Spaceship and Mothership 1/200 Scale Model

SALE PRICE: $75.00

Virgin Galactic's sub-orbital space launch system consists of Spaceship and Mothership. Each model includes a wood display stand with unique metal looped upright to hold your model in place. A white Virgin Galactic logo is imprinted on the base of the Display stand.
Mercury Spacecraft Replica Model
Lunar Excursion Module Model
The Lunar Excursion Module in such exact detail, you expect Neil Armstrong to open the door and walk down the ladder to the surface of the moon. This model is 1/48 scale and measures 5 3/4 inches wide and 5 1/2 inces long.
Voyager Model Kit
The Voyager Space Craft Science Kit represents NASA's twin mariners of the outer solar system. Kit includes detailed information about the spacecraft, and about their encounters with Saturn, Jupiter, Uranus, and Neptune, as well as their recent sensing of the distant edge of the Sun's influence, called the heliopause. Assembled model is about 22 inches (55 cm) overall including booms. Scale approximately 1/30.

International Space Station 1/100 Scale Model
This is a high-fidelity 1/100 scale model of the International Space Station, spanning 3 1/2 feet across fully assembled truss. Take a look at how rich in detail and accurate this model is! This model features a solid truss, not an open one like many other models portray, as a solid truss is the real way the truss appears in orbit.
SpaceX Falcon 9 and Dragon Flying Model Rocket Kit. Price: $29.69.
from Amazon.com
Molded nose cone, tail and transparent fins
Dual parachute recovery
Finished model stands 58 cm (22.8 in) tall
Made in the U.S.A.

Solar System Planetarium Model
Creative fun for the young AND the young at heart! Assemble and paint your own planetarium model. You can even highlight your solar system model with the glow paint provided. Charge it with any light source, turn the light off, and it will glow like magic! This inspiring science craft contains:- 1 set of 3-dimensional Solar System planetarium model- 1 brush - 1 stripe of paint pots and glow paint- 1 set stand and rotating arms- 9 steel bars - 1 sand paper- 1 Saturn ring template- Detailed instructions- Bonus wall chart of Solar System.
Recommended for ages 7+.
Levitron Revolution - Lighted Base with Globe and Space Shuttle
Orbiter Model With Working Doors
$189
from SpaceStore.com
This 1/100 scale high quality desktop Orbiter with working cargo doors comes with a stand. Stands 9 1/2 x 14 1/2 inches. This is not a kit and is meant for display such as a desk or case.
Solar System 3D Mobile Making Kit
As seen in Architectural Digest! Build your own 29 1/2 inch glow in the dark solar system toy mobile. This amazing kit includes a full set of snap-together planets, hanging frame and string, two strips of paint, two glow paints and a paint brush. Kit also includes a bonus poster with solar system facts.Features: Painting and assembling instructions are included Ages 7 & upted and detailed with historically correct markings.


Also try the following Non-related Space Models Products:
Star Trek U.S.S. Enterprise NCC-1701-A Model Kit
This special model kit of the Enterprise measures 34-inches long and includes over 150 pieces. Assembly required; cement and paint required. Skill level 2, ages 10+.
Apollo 13: The NASA Mission Reports
Space Voyagers Adventure Fleet ISS Model

T-38 Model
This T-38 is used for training and transportation by the NASA astronauts and flight crews.
also check out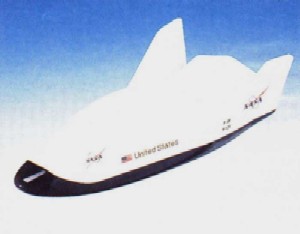 Daron Worldwide Trading E1930 X-38 Space Escape Shuttle 1/30 AIRCRAFT
---
---
Sections:
Any suggestions or comments on AeroSpaceGuide's Space Model Section, click on Contact Info.
---
Thank You for visiting the Space Shop!

Please return to the Space Store when you are ready to purchase an Astronaut Figure or other models. Support this site!
---
Try These:
Goto Space Projects and Info Home Page

Sections: Launch Vehicles | Spacecraft | Space Exploration | Spaceplanes | Space Stations | Propulsion | Space Future | World Space | Space Miscellaneous | Space History | Aircraft | Space Business | Military Space | Space Quiz

Copyright © 2000-2014 Vic Stathopoulos. All rights reserved.
Updated: Tuesday 1st, April, 2014